Shell Shockers is an online multiplayer first-person shooter (FPS) game where players control egg-shaped characters armed with various weapons, and the objective is to eliminate opponents in a series of fast-paced matches.
This online game was developed and published by Blue Wizard Digital on September 1, 2017.
Shell Shockers .io Game Wiki
| | |
| --- | --- |
| Name | Shell Shockers |
| Other Names | ShellShock.io, Shell Shockers Unblocked |
| Developer | Blue Wizard Digital |
| Publish | September 1, 2017 |
| Genre | Action, Shooter Games |
| Mode | Multi-Player, |
| Platforms | Android, iOS, Web browser |
Shell Shockers Unblocked game and can be played directly on a computer browser. It offers a unique gaming experience that is both challenging and fun. The controls are easy to learn, but the game is difficult to master.
How to Play Shell Shockers
The game is set in a cartoon-like environment and features physics-based gameplay. It has four different game modes – Free For All, King of the Coop, Captula the Spatula, and Weapons but all have common goals with slightly different gameplay.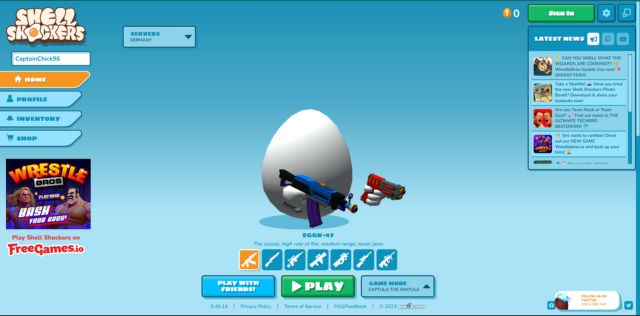 In Shell Shockers, you have an egg-shaped character armed with a gun and bombs. Your aim is to jump into the battle and kill your opponents who have similar egg-shaped characters.
Customize your hats or Stamps and other items released twice per month.
Game Modes
Free For All (FFA): In this mode, every player is on their own, and the objective is to get as many kills as possible. It's a chaotic battle where each player fights for themselves.
Team Deathmatch (TDM): In this mode, players are divided into two teams, typically Red and Blue. The objective is to work together with your team to eliminate members of the opposing team. The team with the highest number of kills at the end of the match wins.
Capture the Spatula (CTS): This is a team-based objective mode. Teams compete to capture the enemy's spatula and bring it back to their base. The team that captures the spatula the most times wins the match.
King of the Coop: This is the latest mode in the game that was added on December 1, 2021. The goal of the game is to battle and become a rooster royalty by having a computer territorial control. It has a new map when you win, your team gets 250 golden eggs.
Controls
WASD to move in any 4 directions
Spacebar to Jump
Shift to aim opponent
Left-click to shoot
R to reload gun
E to change weapon
F to make a melee attack
Q to throw a grenade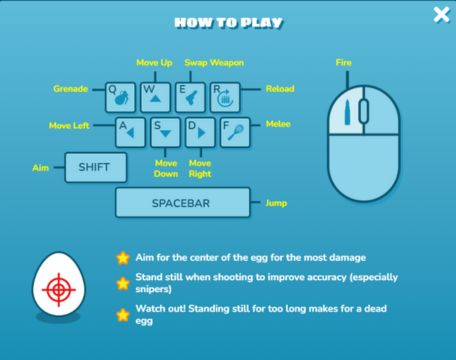 What are the weapons in Shell Shockers?
In Shell Shockers, a variety of egg-themed weapons are at your disposal, each with its own unique characteristics and strategies.
Here are some of the primary weapons you can wield:
EggK-47: A standard-issue automatic rifle firing egg-shaped projectiles. It provides a good balance of fire rate and accuracy.
Crackshot: A precision sniper rifle for long-range engagements. It delivers devastating damage with a well-placed shot.
Scrambler: A rapid-fire weapon with a high rate of fire. It's excellent for close-quarters combat and suppressing opponents.
RPEGG: A rocket launcher capable of launching powerful egg-shaped projectiles. It's a devastating weapon for dealing with groups or heavily armored foes.
Whipper: A shotgun that excels in short-range encounters. It delivers a spread of egg pellets for maximum damage up close.
Free Ranger: A powerful, semi-automatic weapon
Tri Hard: A rapid-fire machine gun with a high ammo capacity.
Shell Shockers Alternatives
Features
Egg-Themed Universe.
Variety of Egg Classes.
Multiplayer Online Gameplay.
Different Game Modes.
Diverse Map Variety.
Where to play Shell Shockers Unblocked?
You can play the Shell Shockers game on this page of NCERT Infrexa. Please scroll up this page and wait until the game loads.
Supported Browsers
Chrome
Firefox
Edge
Safari
Opera
Brave
As of September 2023, the Internet Explorer browser does not support the game yet.
System Requirements
2.0 Ghz processor
4 GB RAM
Graphics card with WebGL compatibility
Mouse
Keyboard
Active internet connection.
Download options
Shell Shockers is primarily an online browser-based game, which you can play directly in your web browser without the need for downloading or installing any additional software.
Recommended for you: