Evony King's Return is a built-battle puzzle video game for Android, iOS, and Microsoft Windows users. The game features a wide variety of puzzles, ranging from simple ones that can be solved in a matter of minutes, to complex ones that may take hours to figure out.
It was developed and published by TG, LLC on November 4th, 2022.
| | |
| --- | --- |
| Developer | TG, LLC |
| Publish | November 4th, 2022 |
| Genre | Strategy, Casual, Multiplayer, Competitive Multiplayer |
| Modes | Singleplayer, Multiplayer |
| Platform | Android, iOS, Windows, Web-browser |
Gameplay
The main objective of the game is to build and expand your own city, gather resources, train armies, forge alliances with other players, and engage in battles to conquer and control territory.
There are 20 levels and 7 cultures in the game. To unlock the higher level, you need to complete the previous level.
Cultures
When you open the game you first need to select Culture, You can pick any of one out of 7 which are:
1. Europe
When the darkness of barbarism comes, the chivalry rises from chaos. Warriors of Europe, raise your Sword and revive heroes' glory again.
It has the following features:
Bianco Romano: Stone Production +10%
Knighthood: Mounted Troop Attack +5%
Adventurer: March Speed to Monsters +5%
2. China
The Tang Dynasty wakes up in the morning bell of Chang'an. When the flames of war rise, the chines descendants are ready to offer their blood and loyalty to the earth.
Features:
Wooden Ox and Gliding Horse: Troop Load +5%
Master Sun's Art War: Ground Troop Attack +5%
Papermaking: Research Speed +3%
3. Japan
When the spring breeze blows over the fields of hometown, every grass is watered by the blood of the warriors. The brave who view life as morning dew, here is exactly your splendid world.
Features:
Rice Transplanting: Food Production +10%
Samurai Armor: Ground Troop Defense +5%
Katana Forging: Crafting Speed +8%
4. Korea
Take the mountain as the barrier and rivers as the border. Korean warriors are born to fight, if one of them keeps the road, he will frighten a thousand people.
Features:
Axe and Saw Modification: Lumber Production +10%
The Devine Weapon: Ranged Troop Attack +5%
Dongui Bogam: Healing Speed +5%
5. America
A new land of hope, a free United States of America. What you have to do is to be like a real hero, fighting for the devotion in your heart.
Features:
Global Trade: Gold Levy +5%
Modern Weapon: Siege Machine Attack +5%
Mercenary: Training Speed +3%
6. Russia
The cold of the Northern tempered the will of the soldiers, and the strong enemy kept them on guard at all times. Russian warriors, you will overcome all difficulties and conquer to the end of the continent.
Features:
Metallurgy: Ore Production +10%
Cossack: Mounted Troop Defense +5%
Trap Master: Traps Building Speed +10%
7. Arabia
The ancient land kept the heritage of wisdom, and the legendary wealth hid in the depth of the desert.. The desert heroes have awakened, and they are on a journey to build eternal glory.
Features:
Buried Treasure: GemsGathering Speed +5%
Nomadism: Mounted Troop HP +5%
Arabian Nights: Bonus from offering +5%
Key Gameplay Elements
City Building:

Players start with a basic city and are tasked with developing it into a powerful and prosperous stronghold.
Construct various buildings to produce resources like food, wood, stone, iron, and gold. These resources are essential for training troops, research, and construction.

Research:

Players can conduct research to unlock new technologies, which enhance resource production, troop effectiveness, and overall city development.

Troop Training:

Train various types of troops, such as infantry, cavalry, archers, and siege weapons. Different troop types have unique strengths and weaknesses.

Alliances:

Players can form alliances with other players for mutual protection, support, and strategic coordination. This is crucial for success in the game, as alliances can work together to defend against attacks or launch coordinated offensives.

Combat:

Engage in battles with both AI-controlled and player-controlled opponents. Combat is usually in real-time, allowing players to make tactical decisions during the battle.

Quests and Events:

Participate in quests and events to earn rewards, which can include resources, items, or special units.

World Map:

The game world is a shared map where players can explore, scout, attack, and conquer other cities. The world map is usually divided into different regions, each with its own resources and challenges.

Heroes:

The game may feature a system where players can recruit and level up heroes. Heroes can lead armies and provide various bonuses and abilities.

Items and Equipment:

Players may be able to acquire and equip items that enhance the abilities of their city, troops, or heroes.

PvP and PvE:

Engage in player-versus-player combat against other players, or battle against AI-controlled opponents in PvE scenarios.

Events and Updates:

Developers often introduce limited-time events, updates, and special offers to keep the gameplay fresh and engaging
Daily Rewards
Evony: The King's Return" provides various daily rewards to players to encourage regular gameplay. These rewards might change depending on day 1, day 2, day 3, day 4, day 5, day 6, or day 7.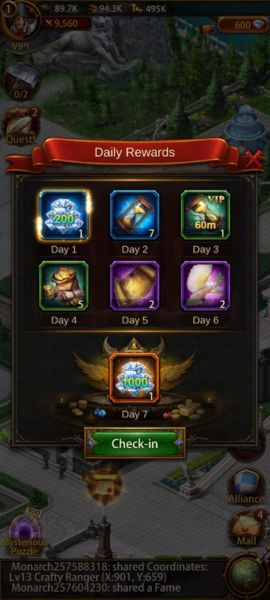 Evony: The king's return login
In order to login to the game, players will need to create an account with an email or Facebook. Once they have done so, they will be able to log in using their username and password.
Once logged in, players will be able to access all of the game's features and content. This includes the ability to chat with other players, join guilds, and participate in PvP combat.
Download Links
The game is available for Android, iOS, and Microsoft Windows. You can reach the game download page using the below links –
PLAY: Evony (Video Game)
Pros:
Improved Graphics – One of the first things you'll notice about Evony King's Return is the improved graphics. The game looks better than ever and runs smoothly on most devices.
New Content – In addition to the updated graphics, there is also new content to enjoy in Evony King's Return. This includes new quests, gear, and enemies to battle.
Cons:
Requires a Strong Connection – One downside is that it requires a strong internet connection in order to play without any issues. This could be a problem for those with.
It requires high system requirements to play the game properly.
What Features Does Evony KR Include?
The game has been downloaded over 160 Million worldwide on different platforms.
A New Story: The game will feature a new story in each level.
New Gameplay Mechanics: Evony King's Return introduces new gameplay mechanics, such as a revised combat system and new puzzle elements.
Improved Graphics and Audio: The game features improved graphics and audio over the original Evony.
How to redeem codes?
Open the game on your device and navigate to the menu screen.
Look for the "More" button and click it to reveal more options.
From there, look for the "Settings" tab and click on it. This will take you to a new screen where you'll find the option to enter your redeem code.
Double-check that everything is correct before clicking the submit button. If successful, you should receive instant rewards or gifts by using the redemption code.
Evony: The King's Return play online unblocked for free
Yes! Evony: The King's Return is a free-to-play online video game. You can download the game client from the above table and play it free on your browser.
The game has been designed from the ground up to be a free-to-play game. All of the game's content is available without any payment. However, there are some optional microtransactions that can be made to speed up gameplay or purchase cosmetic items
Alternatives
For starters, there are plenty of other real-time strategy games that offer a similar gameplay experience. Some popular examples include.
The "Age of Empires" series, "StarCraft" and "Command & Conquer.
Some popular genres include first-person shooters, role-playing games, puzzle games, and more. No matter what your interests are, there's sure to be a video game out there that's perfect for you.