The Cyber Chaser is a running platformer video game where players need to run, jump, and shoot enemies and avoid obstacles preventing them from reaching the goal
The game was developed by a Georgia-based Indie Game Developer SilenGames in 2013 and was published on September 26, 2013.
| | |
| --- | --- |
| Name | Cyber Chaser |
| Developer | Silen Games |
| Publish | September 26, 2013 |
| Genre | Action, Shooting, Jumping, Enemy Game |
| Modes | Single-player |
| Platforms | Web browsers |
Cyber Chaser Gameplay
In Cyber Chaser, the player controls a character who runs to reach the goal. While you are in the way you have to run, use your weapons to kill the enemies, and avoid obstacles for example – spikes and walls, falling off the edges of buildings, and being hit by enemy lasers.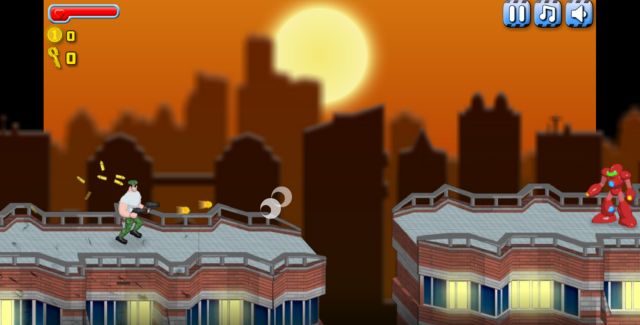 The player requires quick action to protect him from any health impairment. The enemy laser is very dangerous and can even damage your life and end the level.
To unlock the next level you have to finish your goals and objectives. With each higher level, there are increased challenges and obstacles. While completing your goals you earn money, which you can use to upgrade your abilities and buy new weapons.

Weapons include – Pistols, Shotguns, Machine guns, Pulse guns, Gatling guns, acid guns, Flame guns, Laser guns, Rocket launchers, and many more.
The game offers various supports to the player which they can unlock by completing certain tasks in the game. Like – Medical kit, Helicopters, Mega shields and airplanes etc.
There are 3 episodes in the Cyber Chaser game that can be finished within a certain distance.
The goal of the game is to reach the end of each level, and ultimately, the final boss.
Cyber Chaser Game Controls
Jump – Top arrow key (↑) or right-click on the mouse
Slide – Down arrow key (↓) or Space button
Similar Games
Recommended for you: